The Festival For The Dammed (sic)
Fiction. Beware of homophones and communicative concrete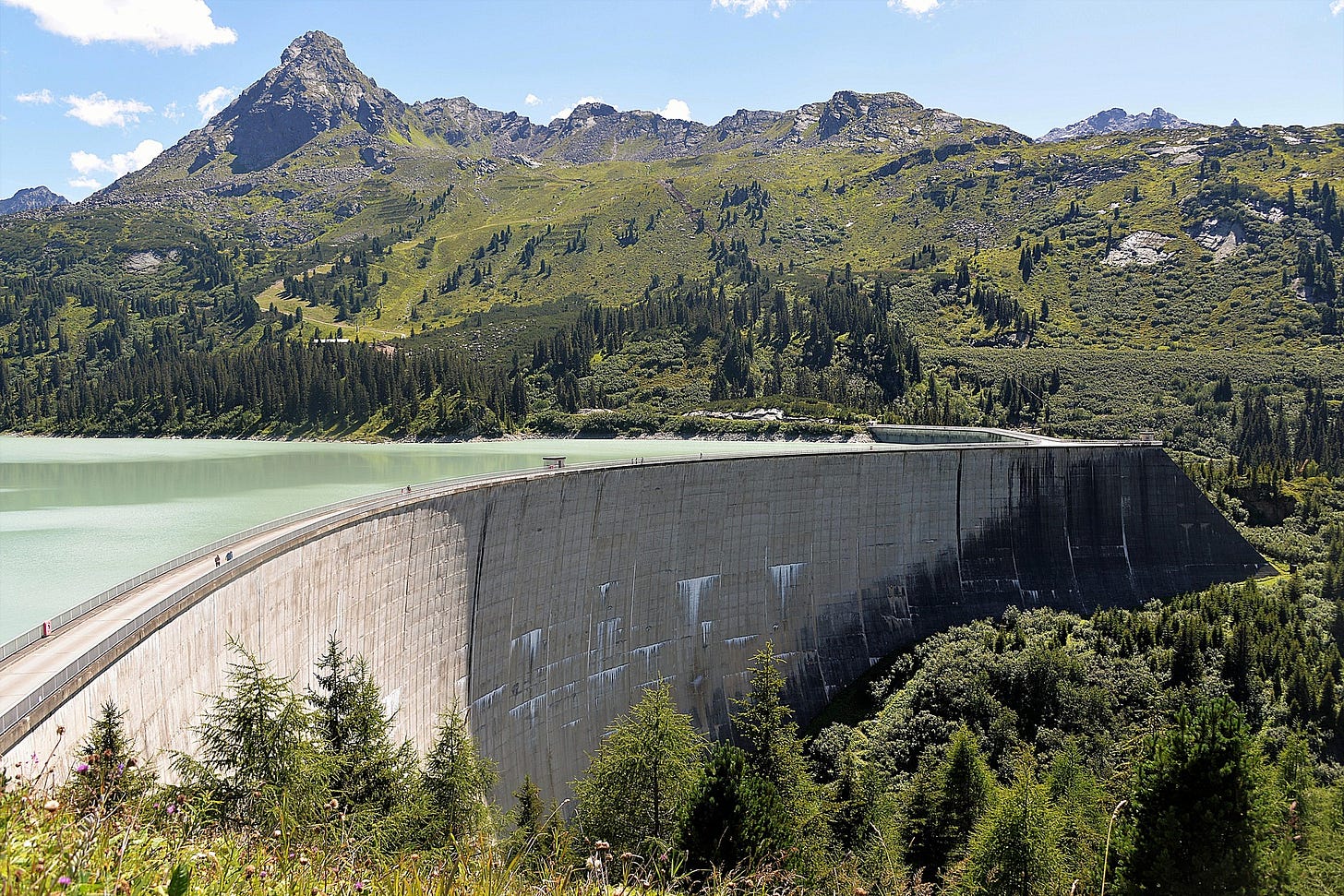 Eighty klicks east of Adelaide is a little town called Wallaby, which is sat in a valley beneath a cracked dam wall. Up and down the sheer concrete face is a creeping web of hairline fractures. They're splayed out like forked lightning. One day, someday soon, the dam wall will split and let loose gigalitres of decimating water upon the little town of Wallaby. Homes and people will be lost and everyone will suffer and everyone will be wet. This was a major concern some thirty-one years ago, but lately the townsfolk have been busy. There are town meetings to attend, small local businesses to patronise, and a perennially disappointing first-grade AFL team (the cheekily named Wallaby Wallabies) to barrack for and somewhat hate.
Still, the damned dam wall creaked from time to time, though no civil engineer could adequately, scientifically explain why. The creak was actually the admirable attempt of a concrete wall to form an intelligible english sentence, and say things like "Remember me?" and "Seriously, help!" by reverberating its compact, calcified particles together. It was a spooky sound. The groan made the townsfolk stand very still and be terrified in a way they couldn't understand.
But today, the people of Wallaby are having their fete.
The handsome and well-liked Cooper family were effectively in charge of the thing this year. Pat Cooper was the mayor and de-facto patriarch of all of Wallaby. His wife Mary had come from a long line of wives called Mary and was, at the time, the acting president of the Wallaby branch of the Country Women's Association. But it was their young daughter, also inevitably Mary, known universally as Little Mary, upon whose shoulders the fete weighed heaviest.
Every 15th day of every May of every year, for as long as Little Mary Cooper had understood the cyclical passage of time, The Damn Festival (sic) was the event in her calendar. This year, aged nine, she had been entrusted with the bunting. And so, as dawn rose on the 15th day of May, Little Mary had gone out to hang, all by herself and with her very own step ladder, a decorous and colourful row of little flags along the high street. She also draped pale blue streamers and green and gold ribbon at deliberate, aesthetic intervals. It was all done by 7:30 a.m. The young girl then conducted a thorough inspection of her own handiwork, and basked in all that her good craftsmanship meant for Wallaby's fate. My heavens, she thought, I've done all I can, and I've done very well.
Since the Damn Festival's inception some thirty-one years before, the event had only ever been a failure because of one of (or in 1994, a sickening combination of): terrible storms, a loss at the woodchopping competition, or inadequate bunting. On the other end of the spectrum, 1999 saw Wallaby's greatest ever Festival off the back of some clement weather, heroic axe work, and splendid rows of colourful flags.
Little Mary Cooper was industrious and kind and widely adored, but she couldn't control the weather. The woodchopping was also beyond her sphere of influence. She could only do that which she had done by 7:30 a.m.: line the high street with vibrant flags, ribbons and streamers. And she had done this very well.
Little Mary looked up and out at the grey morning. It was a bleak day. She'd heard her father say that storms were forecast, but storms were seemingly always forecast for the 15th day of every May of every year. It was just one of those things. In fact the Wallaby school children had a song they sung about it in time with the rhythmic slap of the skipping rope at lunchtimes. It went: 'Be-ware be-ware the Ides of May, and pray for sun and warm. With-out good bun-ting skies turn grey, but it always looks like storm.'
Though a suspicious bank of clouds had been spotted scheming in the South, Little Mary Cooper told herself, sternly, not to worry. She was only a kid, she thought, and she should start acting like one. And besides, what was there to worry about? Her bunting was good and all would be well.
---
Pat Cooper cut the ribbon to open the 31st annual Damn Festival at 10:00 a.m. on the nose. And though she'd already managed many, many laps of the fete, lending a hand or advice where possible, at 10:00 a.m. Little Mary crossed the now-ribbonless Festival threshold with fresh eyes. She imagined herself as a kind of alien from outer space, that her eyes were live-feed cameras beaming straight back to the mothership, and that her job was to show the entire galaxy what a truly terrific Festival she had helped put together. She consumed every detail.
Little Mary Cooper walked along the high-street with astonishingly wide eyes. She absorbed (but did not dance or sing along with) the Keith Urban CD her dad had plugged into the PA system. The little girl moved purposefully past the Welcome and Information tent, having already memorised the map. Now on her left, curated by a three-deckered row of steel bleachers, was an arena for the woodchopping, which was to start in the early afternoon. Docile fluffy animals on very tight leashes were being petted just a little further down the high street. Foot traffic was then made to weave between various imported carnival rides, which Little Mary had to fight every nine-year-old urge to walk by, convinced that her mission to see everything was too important to the galaxy. She then flowed on with the ambling crowd through the ad-hoc animal house, where the region's finest (a word which Mary wholeheartedly believed to be a synonym for plump) livestock milled with a distant, smouldering look in their eyes. Little Mary wondered what these succulent beasts saw in the middle-distance that no human could.
Finally, Little Mary Cooper floated through Stall City; an alphabetised paradise of goods and foods and services. This was the Festival's greatest menagerie of local business, patronised eagerly by everyone regardless of inflated prices because of a somewhat unfounded mass-belief that a $5 sausage sandwich did great things for Wallaby's economy. The fete had, in reality, been running at a significant loss for the town since 1994. This was public knowledge, by the way. The Wallaby school children even sung a song about no-return investments when skipping rope. But the townsfolk all knew in some back-of-the-brain way that the Damn Festival was not about raising money so much as it was about… well, no one could exactly remember - but it definitely wasn't about making money! And neither did anyone speak out about the proximity of the 'Fresh Fertiliser' stall to its 'Free Fairy Floss' neighbour.
As she floated from stall to stall, Little Mary Cooper's hypervigilant eyes became aware of a vacant space. Though every stall was doing good, price-inflated business, and the flow of people was so thick that it was not unlike herded cattle, there was a barely perceptible void. Her eyes could see an emptiness, an absence of people, between the 'City History' and 'Drought Relief Fundraiser' stalls. Her eyes saw, and beamed back to the mothership, that the herded cattle were completely avoiding even standing in front of a stall that her eyes could see was called 'DAM AWARENESS!' Little Mary Cooper's brain, along with most other Wallaby brains, was not always capable of registering what its eyes claimed to see.
DAM AWARENESS! was, in fact, not even staffed. Some archaic fete policy (that organisers bemoaned every year for forgetting to abolish at the Festival AGM) required that the stall was put up for some reason. It had not been staffed since 1994. A curious, weathered, informative placard was gaffa taped to the skeleton of the stall. Few eyes saw it, and no brains registered it at all. And maybe if Little Mary's self-control hadn't suddenly given out, causing her to snap and abandon her duty to the galaxy and run off into the thick of it to immerse her mind and body totally in the dodgem cars and fairy floss and smell of straw and animals, she might have actually read the thing. It said:
"The Dam Festival (sic), now in its 6th year, hopes very much to entertain and inform you. This stall has all the information you need about our cracked dam wall, and everything we should do to save it. Good luck at the woodchopping!"
Little Mary Cooper was not even an idea in 1999, but every true Wallaby local knew the story of that year's Festival. It was taught in schools. Immortalised through songs sung while skipping rope. Rope skipping was really big in Wallaby.
The story Little Mary and her class were told was simple and wrong. They were told that the 1999 Festival was perfect. Bunting: prodigious. Woodchopping: smashed it. Weather: a crystal blue sky and a balmy 25 degrees. 1999 is described as a bright new beginning, a year where life was beautiful and prize winning pigs were plumper than ever before. This is wholly untrue.
The people of Wallaby were disillusioned and hopeless in 1999. Their signature fete, the Dam Festival (sic), had been a calamitous, depreciating failure for five consecutive years; their homes and community were in extreme danger of being engulfed by gigalitres of torrential water and no one had any funds to do anything about it. But then an administrative error, an honest-to-god typo thanks to the slip of some clerk's index finger, had conjured the letter 'n' out of thin air, which meant that in 1999 all the ticketing and signage welcomed visitors to the Damn Festival. Disillusioned and hopeless people take things like this in stride. Disillusioned and hopeless people can really embrace homonyms, and the new 'n' seemed to change everything. Over the course of two decades, every farmer and drover, ever mayor and council, every Associated Country Woman, every rotary member, everyone called Mary, every rope skipping child, out of towner, local journalist, every single person who attended the Festival believed that the word Damn was and had always been an adjective. They believed that the Festival had been named in the same effusive, larrikining spirit in which the Wallaby Wallabies had been named.
---
To a nine year old girl in any other part of the world, the woodchopping would seem a violent and dirty way to pass half an hour. To Little Mary Cooper it was almost life and death. One third of the fete's fate depended on it.
The woodchopping was divided into four separate events. Each discipline required different saws, and was worth different amounts of points that contributed to an overall four-person-team score. Chopping teams from all over South Australia came to Wallaby for the fete, though they weren't welcomed very warmly or given much chance of winning. This year the Wallaby Axemen had superstars in each discipline, and the crowd buzzed with a low, excited hum.
The underhand event was exciting, as always. The cross-cut sawing was generally spirited, if a little long. The tree-felling was a bit of fun indeed. But there was no doubt in anyone's mind that the final event, the standing block, was the event to win. The Wallaby Axemen went into it with a sizeable lead, and by this point the grandstand had overflowed into a thick ring of people lining the arena.
The place was electric. The whistle blew.
Little Mary Cooper hardly knew where to look as arms and axes and splintered wood began to fly. The men threw their whole body into their axe, and their whole axe into the pole of vertical wood. Dull thuds of axe on willow were drowned out by the crowd. Thunk-unk-unk-unk went the chorus of fifteen or so axes. People swayed. Thunk-unk-unk. The bleachers shook on their foundations. Everyone was standing up. Thunk-unk-unk. The men swung their axes like baseball bats at upward diagonals, then downward diagonals, and then with all the sheer force they could muster. Thunk-unk. The crowd heaved with each striking of the axes. Thunk-unk. Which seemed to fall into some strange harmony. Thunk. Thunk. Like the beating of a drum. Thunk. Thunk. Thunk. Fifteen drums. Thunk. Where the drummers are angry and using axes instead of sticks. Thunk. Thunk. The blows were enormous. Thunk. One Wallaby man let out a grunt, and then threw every particle of energy he could summon at his log. Thunkcshhhrrrka.
It split. The rest followed. A hush fell gradually over the arena when the final chopper finished. Scorekeepers ran about tallying and double checking.
Mayor Pat Cooper had the honour of saying over the PA system, 'Ladies and Gentlemen, this year's team champions, by a record points margin, are… The Wallaby Axemen!' The reading of second place, third place and honourable mentions were lost in the celebration.
There was a lot of noise. And though Little Mary Cooper was a serious contributor, she found time in all the cheering to breathe a solemn sigh of relief. The bunting was exceptional, the sun had burned the clouds away into rumour and unimportance, and now a record win at the woodchopping. This had the makings of one of the greatest Damn Festivals of all time; better than even 1999.
That afternoon was blissful. Whatever worries the people of Wallaby had were melted away into a perfect afternoon of carnival rides and prizewinning cattle. At sunset, having done everything there was to do at least three times, Little Mary found her parents. The handsome Cooper family huddled together close for the fireworks display.
Elsewhere, the damned dam wall creaked. It did that from time to time. It sounded like a concrete wall's best attempt to form a parsable english sentence. Which is exactly what it was. The colossal infrastructure, built long before anyone in Wallaby had been alive, let out a short, dull, garbled groan that reverberated around the valley. It was lost in the boom of pyrotechnics.
As the Wallaby sky began to pop with dazzling light grenades, Little Mary Cooper felt as happy as she had ever felt. She loved the Damn Festival so much she felt she could just about fly into the sky, and colourfully explode, and cascade down and all around and shimmer and vanish. The night was full of fireworks. And they splayed out like forked lightning.